"Worth Fighting For"
DPSM 2020 Marriage Enrichment Conference
Friday, February 7 – Saturday, February 8, 2019
We're back at the Hyatt Regency! Nestled into a quiet and beautifully landscaped setting in Fairfax , Virginia it offers the perfect get away for location and amenities. Your registration covers all conference materials, king hotel accommodations, plus the following:
Friday – Breakfast for Two , Lunch for Two, Dinner for Two and Friday's "Date Night" Entertainment
Saturday- Breakfast for Two, Lunch for Two
Raffle Entry to Prize Giveaways
Couples Networking Opportunities
Maintaining, Retaining, and Restoring Your Relationships!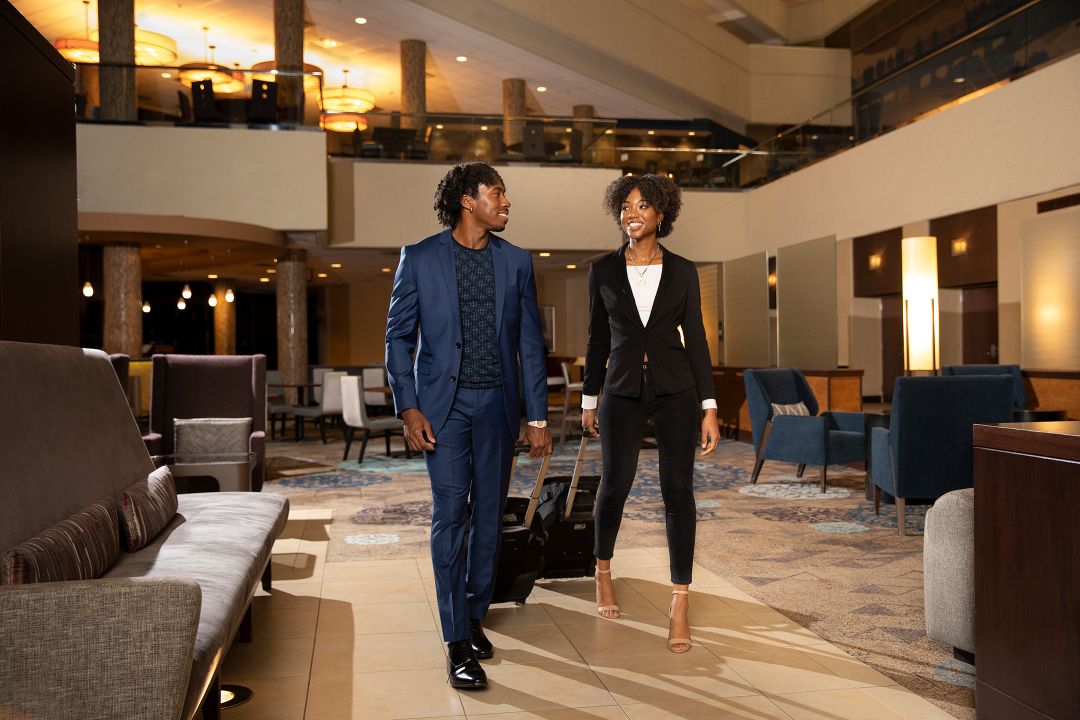 The weekend will be filled with applicable teachings on how to build and maintain a successful relationship/marriage. You will have fun with your spouse or soon to be spouse by engaging in interactive games/relationship building sessions, networking with other couples, and most importantly, lots of God's Word! You will be responsible for any meals not listed. The registration fee is non-refundable; however, it is transferable to another couple for the same event.
This year we're pleased to introduce the comedic stylings of TONYA LEWIS!
As a former "Class Clown", Tanya realized her talent to entertain but never acted upon it until she attended a "Live Your Dreams" Event. While at this event, God revealed to her that she possessed a gift that would be used to honor Him and impact the lives of others. Tanya has always used her sense of humor to capture the attention of others as well as establish new relationships.
This anointed woman of God has an incredible stage presence, a natural gift, and a great personality. You might find her cracking a joke anywhere or showing out at one of her performances. To get a preview of her talents, go on Facebook where she has a comedy page, "Comedienne Tanya Lewis".
Tanya's performance will have you cracking up as she shares her experiences of how she joined the church, getting the Holy Ghost and the song that she wrote about being fit for the Kingdom. She does it with such style, class and confidence that her audiences feel as if they are part of the act. Tanya is an all-around entertainer. Tanya is the Recipient of the 2016 and 2018 Church Stars Comedienne of the Year Award, and honoree at the African American Museum. She has opened up for Marcus D. Wiley, Chinnata Morris, Hamburger, Nikita B, Akitunde, Cocoa Brown, Leandria Johnson, Pastor Kim Pothier, Pastor Marcus Gill, and Rev.Jessie Jackson to name a few. Tanya is currently on one of the biggest female comedy tours The First Ladies of Comedy with Comedians Small Fire, Sister Cantaloupe, and Mz. WallStreet.
Tanya is also the Ceo and Founder of Dmv's Got Talent which offers a platform to showcase their gifts. She is also the author of "Restored" in which she talks about her journey and transformation from strongholds and addictions. Tanya is very transparent and invites you to read about her journey. Tanya is also the writer and Producer of the hit Stage Play "Torn" which will have you laughing and crying, sitting in amazement, and wondering how she made it. She shows us the power of love when it's released to a person and teaches to leave the shame of the last behind and move forward. Tanya is the recipient of the "Producer of the Year Award and nominated for Stage Play of the Year. Tanya has no problem connecting with people from every walk of life. She is committed and passionate to her purpose in life.
Tanya has been referred to as the Doc of Comedy (Doctor of Comedy) because throughout her journey in life she is able to bring you laughter through any type of pain.
---
Cost: $375/couple (Friday night and Saturday accommodations, check out Saturday)
Payment Schedule
Deposit due: Thursday, October 31, 2019- $50
Second Investment due: Friday, November 15, 2019- $100
Third Investment due: Friday, December 13, 2019 – $100
Final Investment Balance Due: Friday, January 3, 2020- $125
*Please note, when registering, you are committing your name to the rooming block list to receive the special discounted promotional package price that we have negotiated with the hotel for this conference. Therefore, you will be responsible for paying all fees ($375/couple) associated with this conference package prior to the day of conference check-in. Please register by no later than January 3, 2020 to lock in your guaranteed promotional pricing! Please email events@dpsm.org if it is after the registration cut off date. We will be happy to assist you in getting you & your spouse/significant other added to rooming list if there is availability!
Event Registration
Already Registered? Make Payments Here
If you have any questions, please contact events@dpsm.org.
THANK YOU FOR JOINING US THIS WEEKEND. MAY GOD CONTINUE TO BLESS YOUR MARRIAGE!